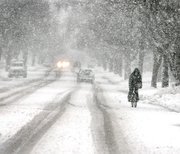 Those cold snaps and freezing weather will be here before you know it, and the city of Beloit is offering tips on how to be prepared.
Director of Water Resources Josh Shere says it's crucial to make sure that a homes heating components are working to the best of their abilities, especially in basements, to avoid the freezing of pipes.
Shere says that if your pipes do freeze, you can use a hair dryer and a slow steady heat to help thaw them, but if anyone is ever uncomfortable or for underground pipes they should absolutely get professional help.
If residents have any questions or concerns they are encouraged to contact Beloit Water Resources.